Roadside Station for Learning
Seishū-no-Sato is a roadside station located in the region closely associated with Hanaoka Seishū, a great doctor from Wakayama.
It has an exhibition room which houses reference documents where you can learn about the great achievements of Hanaoka Seishū, as well as the "Shunrinken," the residence and clinic of this great man.
A renowned doctor beloved by Wakayama

Seishū in his youth
Hanaoka Seishū is known as the creator of an anesthetic called "Mafutsusan," and is said to have been the first surgeon in the world to successfully perform mastectomy for breast cancer using general anesthesia.
Seishū was born in October 23, 1760 in a small village in Naga County, Kii Province, (now Nishinoyama, Kinokawa City, Wakayama Prefecture). He was the eldest son of Doctor Chokudo Hanaoka.
When he was 23 years old, he went to Kyoto to study medical science.It is at this time he hears about an ancient Chinese doctor named Hua Tuo who used anesthetic during surgery.Seishū also created his own anesthetic and gradually began strongly motivated to save people who previously were not able to be cured of their ailments.
Once Seishū made it his goal to be the "Hua Tuo of Japan," he studied furiously for 3 years after of which he returned back home.
After succeeding his fathers' practice, he worked on treating his patients while also researching for new treatment methods and gathering medical herbs, and spent his days devoted to the research of anesthetic.
Successful surgery using general anesthesia
There are no detailed records of how Seishū researched his findings on anesthetic.
However, it is believed that once he confirmed that the drugs were effective and safe to use on animals, he began clinical trials on people.
It is said that he personally asked his mother "Otsugi" and his wife "Kae" for their help in his clinical trial.
Eventually, his anesthetic called the "Mafutsusan" was completed, and on October 13, 1804, he became the first person in the world in recorded history to successfully perform mastectomy for breast cancer using general anesthesia.
Training many students at the Shunrinken
Due to his successful surgery, Hanaoka Seishū became widely known throughout Japan, and many patients with intractable ailments and medical students who wanted to learn about Hanaoka Seishūs' medical practice began to arrive his home.
It was here that Seishū built the "Shunrinken," a clinic, as well as a medical school and his own residence, to help save his patients and teach his students about medicine.
In addition, he established a separate school affiliated to the Shunrinken in Nakanoshima, Osaka called the "Gassuido," where Seishūs' youngest brother "Hanaoka Rokujo" examined patients and supervised students. When accounting those who attended the Gassuido, the total number of students who studied the Hanaoka way of medicine was 2,255 students.
Serving the community
In 1809, Hanaoka Seishū put forth his own fortune to expand a lake for irrigation. This was a result of him seeing the plight of farmers as they were suffering to a particularly harsh drought that year and feudal taxations. Furthermore, he employed local farmers for the construction and by paying their wages, it helped the farmers pay the feudal taxes which saved them from their plight.
This lake was called the "Kaito-ike," and is still being used to support the irrigation of the local farmers. A single monument stands on the bank of the lake, of which is engraved with a Waka (Japanese folksong) written by Seishū himself. The engravement reads: Mizumitaba-Kokorowokomete-Taueseyo-Ikenomukashiwo-Omohiwasurezu (When you see the water, put your spirit in farming. Never forget the lake in the past).
Seishū in his later years
After being highly praised for his skillset by the Kishū Domain, in 1802 Seishū became closely tied to Jiho Tokugawa, who was Lord of the Domain, and granted permission to wear a sword (wearing a sword is a sign of social status). Although the Kishū Domain tried welcoming Seishū as their resident doctor, he initially declined due to the concern of not being able to diagnose ordinary citizens.
However, upon being requested again, he was certified as a "Kobushin-ishi (Kobushin is a type of rank that holds no post in the government. Ishi is doctor in Japanese)" in 1813, and appointed as a "Kobushin-ishi" in 1819, and finally was promoted to the rank of "Okuishi (doctor to the lord)" in 1833.
Additionally, even when Seishū was appointed to a public rank, his request to continue seeing ordinary citizens were granted. So while he reported to the castle every half of the month, all other times he treated ordinary citizens at the Shunrinken.
Seishū later passed away on October 2, 1835. He was 76.
Note: His age is represented according to the traditional Japanese system.
His spirit lives on
Hanaoka Seishū held the philosophy of "Katsubutsu-Kyuri*" and his purpose was in having a scientific and objective view of medicine. For this reason, he repeated clinical trials to confirm the effectiveness of his treatment before administering to each of his patients.
*All patients, even those with the same diseases, have peculiar problems, and medical doctors must heal them on their utmost, and not solely to cure the diseases. His ideas were similar to those of modern medicine, and he already held them 210-odd years ago in a feudal society during the Edo period.
The achievements of Hanaoka Seishū was recognized internationally after World War 2, with the International Museum of Surgical Science in Chicago praising his distinguished service. Even now, his spirit lives on. October 13, the day he first every successfully performed surgery using anesthetic, is now known as "Anesthesia Day," and the Datura Metel flower, the main component of his anesthetic, is used as the the symbol mark of Japanese Society of Anesthesiologists and the school crest of Wakayama Medical University.
Hanaoka Seishū Memorial Exhibition Room

Historical documents left behind by Hanaoka Seishū and his students are exhibited at the Flower Hill Museum, which is the main building of the roadside station.
They are valuable historical references that documents the Hanaoka medical practice to this day.
Residence and clinic "Shunrinken"

The Shunrinken is the residence and clinic of Hanaoka Seishū, the first person in the world to successfully perform mastectomy for breast cancer using general anesthesia.
Although the main house was dismantled and reconstructed at the former town of Kogawa during the Taisho period, the main building that was well-preserved was returned and rebuilt in 1997 in the original place.
The current Shunrinken is made up of the actual main house and storehouse when Seishū was active, though the others are reconstructed buildings.
Opening Hours
10:00 AM to 5:00 PM (last admission 4:30 PM)
*Until 4:30 PM during November to February (last admission 4:00 PM)
Price
Adults: ¥200
Elementary and Junior High School Students: ¥100
Children under elementary school age and those with disability or rehabilitation notebooks: Free of charge
Groups (15 or more people): ¥150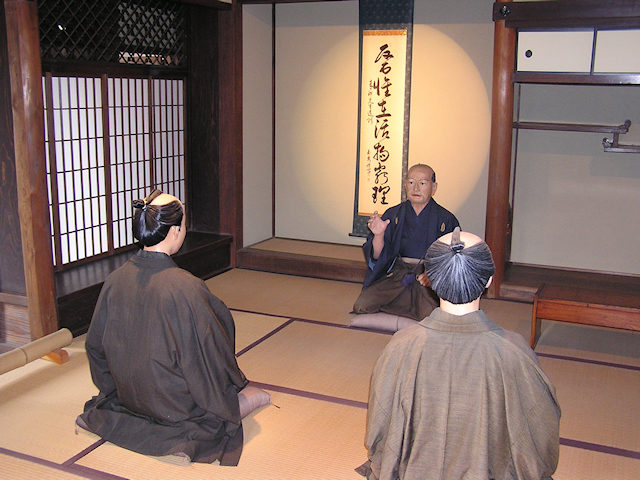 Centered on the main house that housed the residence and clinic, visitors can tour the classrooms, the medicine dispensary, hospital ward, rice storage and servant rooms.
Inside, the surgeries and lectures to the students by Seishū are replicated using puppets and voice-overs.